The Sims 3 is a 2009 strategic life simulation computer game developed by The Sims Studio and published by Electronic Arts. It is the sequel to the best-selling computer game, The Sims 2. It was first released on June 2, 2009 simultaneously for OS X and Windows – both versions on the same disc. The Sims 3 was released to game consoles and smartphones on October 26, 2010, for PlayStation 3, Xbox 360, Android, iOS andNintendo DS and later the Wii platform on November 15, 2010. The Windows Phone version was made available on the Windows Phone Store on the October 15, 2010 for $6.99. There is also a Nintendo 3DS version, released on March 27, 2011, as one of its launch titles.[2] It has also been released for mobile phone platforms, and a simpler version for mobiles with Java.
The Sims 3 was an instant success, selling 1.4 million copies in its first week.[3][4] Critics issued mostly positive reviews. The Sims 3 gained an 86/100 score from aggregator Metacritic.[5] The game has sold over ten million copies worldwide
 since its 2009 release, making it one of the best-selling computer games of all time.
Tyrannosaurus (/tɨˌrænəˈsɔrəs/ or /taɪˌrænəˈsɔrəs/; meaning "tyrant lizard", from Greek tyrannos (τύραννος) meaning "tyrant," and sauros(σαῦρος) meaning "lizard"[1]) is a genus of coelurosaurian theropod dinosaur. The species Tyrannosaurus rex (rex meaning "king" in Latin), commonly abbreviated to T. rex, is a fixture in popular culture. It lived throughout what is now western North America, at the time an island continent termed Laramidia, with a much wider range than other tyrannosaurids. Fossils are found in a variety of rock formations dating to theMaastrichtian age of the upper Cretaceous Period, 67 to 65.5 million years ago.[2] It was among the last non-avian dinosaurs to exist before theCretaceous–Paleogene extinction event.
Like other tyrannosaurids, Tyrannosaurus was a bipedal carnivore with a massive skull balanced by a long, heavy tail. Relative to the large and powerful hindlimbs, Tyrannosaurus forelimbs were small, though unusually powerful for their size, and bore two clawed digits. Although other theropods rivaled or exceeded Tyrannosaurus rex in size, it was the largest known tyrannosaurid and one of the largest known land predators, the most complete specimen measuring up to 12.3 m (40 ft) in length,[3] up to 4 metres (13 ft) tall at the hips,[4] and up to 6.8 metric tons (7.5 short tons) in weight.[5] By far the largest carnivore in its environment, Tyrannosaurus rex may have been an apex predator, preying upon hadrosaurs,ceratopsians, and possibly sauropods.[6] although some experts have suggested it was primarily a scavenger. The debate over Tyrannosaurus as apex predator or scavenger is among the longest running in paleontology.
More than 30 specimens of Tyrannosaurus rex have been identified, some of which are nearly complete skeletons. Soft tissue and proteins have been reported in at least one of these specimens. The abundance of fossil material has allowed significant research into many aspects of its biology, including life history and biomechanics. The feeding habits, physiology and potential speed of Tyrannosaurus rex are a few subjects of debate. Its taxonomy is also controversial, with some scientists considering Tarbosaurus bataar from Asia to represent a second species ofTyrannosaurus and others maintaining Tarbosaurus as a separate genus. Several other genera of Nor
th American tyrannosaurids have also beensynonymized with Tyrannosaurus.
Charles Lwanga
From Wikipedia, the free encyclopedia
Charles Lwanga (also known as Karoli Lwanga) (1860[1][2] or 1865–June 3, 1886) was a Ugandan Catholic catechist martyred for his faith and revered as a saint in the Catholic Church. He was born in the kingdom of Buganda in the southern part of modern Uganda, and served as a page and later major-domo in the court of King Mwanga II. As part of the king's effort to resist foreign colonization, he had begun to insist that Christian converts abandon their new faith, and executed many Anglicans and Catholics between 1885 and 1887, many of whom were officials in the royal court or otherwise very close to him, including Lwanga.
Martyrdom [edit]
The persecution started in 1885. After a massacre of Anglican missionaries, which included Bishop James Hannington, the leader of the Catholic community, Joseph Mukasa – who was then major-domo of the court, as well as a lay catechist–reproached the king for the killings, against which he had counseled him. Mwanga had Mukasa beheaded and arrested all of his followers. This took place on November 15th. The king then ordered that Lwanga, who was chief page at that time, take up Mukasa's duties. That same day, Lwanga sought baptism as a Catholic by a missionary priest.
On May 25, 1886, Mwanga ordered a general assembly of the court while they were settled at Munyonyo, where he charged two of the pages, whom he then condemned to death. The following morning, Lwanga secretly baptized those of his charges who were still only catechumens. Later that day, the king called a court assembly in which he interrogated all present to see if any would renounce Christianity. Led by Lwanga, the royal pages declared their fidelity to their religion, upon which the king ordered them bound and condemned them to death, directing that they be marched to the traditional place of execution. Two of the prisoners were executed on the march there.
When preparations were completed and the day had come for the execution on June 3rd, Lwanga was separated from the others by the Guardian of the Sacred Flame for private execution, in keeping with custom . As he was being burnt, Charles said to the Guardian, "It is as if you are pouring water on me. Please repent and become a Christian like me."
Twelve Catholic boys and men and nine Anglicans were then burnt alive (another Catholic, Mbaga Tuzinde, was speared to death for refusing to renounce Christianity, and his body was thrown into the furnace to be burned along with those of Lwanga and the others[3]). The ire of the king was particularly inflamed against the Christians was because they refused to accede to demands to participate in sexual acts with him.[4] Charles Lwanga, in particular, had protected the pages from King Mwanga's sexual advances.[5] The executions were also motivated by Mwanga's broader efforts to avoid foreign threats to his power. According to Assa Okoth, Mwanga's overriding preoccupation was for the "integrity of his kingdom," and perceived that men such as Lwanga were working with foreigners in "poisoning the very roots of his kingdom". Not to have taken any action could have led to suggestions that he was a weak sovereign.[6]
Charles Lwanga and the other Catholics who accompanied him in death were canonized in 1964 by Pope Paul VI.[7] Although the Anglicans could not be canonized, they were named "with the others, also deserving mention" for enduring "death for the name of Christ
UN 3, 2013 Picture of the Day: Dark Blue Bottom of an Iceberg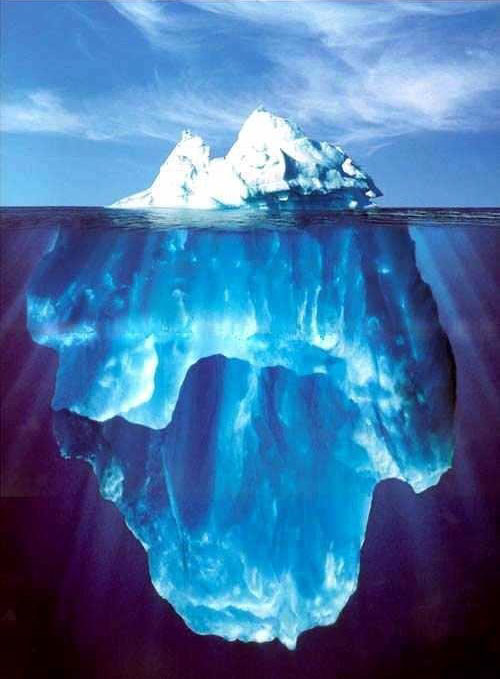 Antarctica Secrets: Scenic Journey to the Bottom of a Lake – Into the Blue
I figured as much. But to the naked eye, there doesn't seem to be anything. I imagine something in the color or patterns on the lake's bottom reveal the life. But I wouldn't know better. I'm not a biologist. Still a nice video though.
This is a Jewish themed song, based on 'Africa' by Toto. It was written, recorded and uploaded on 6th August 2012. This may not be the final recording. This song is partly set from the point of view of a Jewish Israelite after the Exodus despite the words 'I am a Shammai Jew'.
The lyrics follow:
We are in Egypt, take flight.
Let us go and gain our salvation.
We are in Egypt, do not fight.
Flee to the place called Canaan.
Don't ever go out of your way.
To forget the covenant at Sinai incredibly.
Now I know that I love God and I love you.
Now we are just going to get a clue.
Love God and love yourself as I love you.
The rains come to Israel.
We don't have phones yet, so do not dial.
The Pesach lamb was sacrificed at night.
The day starts when the sun sets.
I hope I got that right.
Let's go to Yisra'el and go and throw in our nets.
I am a Jew and that's all there is to that, I am a Shammai Jew, that I have become.
Now we are just going to get a clue.
Love God and love yourself as I love you.
The rains come to Israel.
We don't have phones yet, so do not dial.
Hey, we are waiting for the Mashiach, one, not two*.
I love God and keep His law to say I love You.
I know that it doesn't matter what I do.
Keep the Law the best I can.
To the rains in Israel on the Tribe of Dan.
And all the others too.
I know I love you too.
To the rains in Israel.
To the rains in Israel.
* – this should be 'Hey, we are waiting for two Meshichim, not one, but two*'
New words written by Dan Davidson. Music and original song copyright their respective owners. All original lines, and new song, only copyright Dan Davidson.
Tiffany tries to get Pat to loosen up and dance…to a song he is not exactly crazy about. (Pardon the unintended pun.) Oddly, the song in this clip is NOT Stevie Wonder's "My Cherie Amour", the song that sets Pat off in the actual movie.
Still, I think it's a great "extra" scene with Pat and Tiffany. I hope you agree. Best viewed at the HD setting!
This clip is property of The Weinstein Company and is posted only for entertainment purposes. If you like what you see here, please buy the Blu-Ray or DVD!
Secrets to Dog Training presents an unusually detailed and thorough look at how to both prevent and deal with the more common problem behaviors exhibited by dogs. As the owner of a moderately troublesome mutt myself, I've spent a fair amount of time searching the Net for reliable resources on this topic, and I have to say that the level of knowledge and detail contained within the pages of this compendium is unusually exacting for an online book.
Not only that, but — again, unusually for this medium — the information at hand is actually (gasp!) reliable. Yes, that's right – this one's a whole new kettle of fish. Written by a seasoned dog trainer, you can relax in the knowledge that all the tips and advice included are tried and true, and come from Stevens' real-life experiences as a professional dog trainer. There is also a straight-talking, easy to follow 30-minute downloadable video which provides real-life examples of doggy bad behavior along with solutions and remedies to change them.
But since reading this book, I think my pre-Secrets to Dog Training self was (embarrassingly) perhaps a trifle more complacent than knowledgeable – I've learned more since reading this manual than I've picked up in a near-lifetime's worth of contact with dogs (do you know how to stop your dog from tugging on the leash, without using a check-chain? Well, I do — but until I got my hands on a copy of this book, I certainly didn't!)
Several of the training techniques present a refreshingly common-sense, down-to-earth approach to dog training; others require a little more effort (take dog whispering as an example) but yield some pretty dramatic results. I liked the way that more than one training technique is detailed, to allow the reader to pick and choose the techniques that best suit themselves and their individual dogs.
I have no qualms in recommending this package to anyone who owns, or is thinking about owning, a dog. You don't need to have a "problem pet" for the manual to be of assistance: there's information included that'll be useful to any and all dog owners.
Paste a Video URL
Ten Little Apples & Healthy Food Will Make You Smile
Ten Little Apples & Healthy Food Will Make You Smile