RERUNS»
The Very Best of reRun's 1st Year!
2-For-1 Double Features, One Week Only!
*** Filmmakers in person at all screenings on Tuesday (8/30), Wednesday (8/31), Thursday (9/1) ***
«reRun RERUNS» is a week-long sampler of programming highlights in champagne celebration of reRun's 1st anniversary. Scheduled as themed 2-for-1 double features, the series will include our favorite films since July 2010 (acclaimed DIY indies! music docs! avant-garde fare!), special guests in person, online drink specials, and late-summer shenanigans. «reRun RERUNS» screens August 26 – September 1.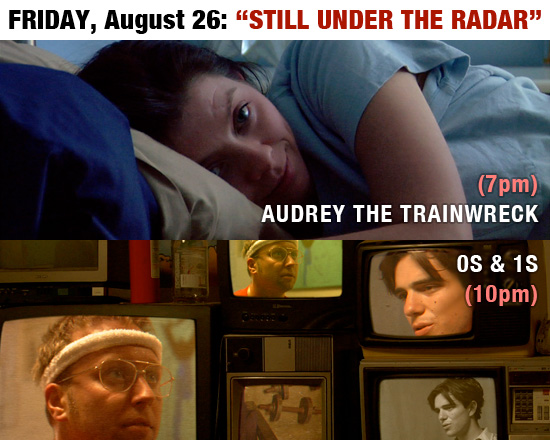 AUDREY THE TRAINWRECK (Friday 8/26, 7pm) – CANCELED DUE TO IRENE!
Dir. Frank V. Ross. With Anthony Baker, Alexi Wasser, Danny Rhodes, Jess Weixler, Nick Offerman. 85mins.
[Watch the trailer] The film that launched reRun! A critical favorite at SXSW 2010, this slyly comic Chicago-set drama from the director of PRESENT COMPANY and HOHOKAM is about attempting to keep one's existence simple (and the innate beauty of such absurd pursuits), as seen through «an incisive portrait of the suburban working-class» (Karina Longworth, THE VILLAGE VOICE).
«A scruffy, tender but very funny romance… Ross is something of an indie Robert Altman, with his huge cast of characters and plaited strands of dialogue, and he has a sharp and comic eye for intimacy, domesticity, and practicality.»
– Richard Brody, THE NEW YORKER
0S & 1S
(Friday 8/26, 10pm) – CANCELED DUE TO IRENE!
Dir. Eugene Kotlyarenko. With Morgan Krantz, Alexi Wasser, Jeremy Blackman. 86mins.

[Watch the trailer] Pronounced «Zeros and Ones,» Kotlyarenko's savvy feature debut is a hip and visually audacious comedy about our obsession and overreliance on the very screen you're looking at now. Boasting an awesome indie soundtrack (No Age, Ariel Pink, Wavves, Mika Miko) and clever digital effects, 0S & 1S «may be the ultimate has-to-be-seen-more-than-once movie» (Neil Genzlinger, THE NEW YORK TIMES).
«Smartly made and completely funny! Does a tremendous job of capturing the hysteria of social media.»
– Lena Dunham, director of TINY FURNITURE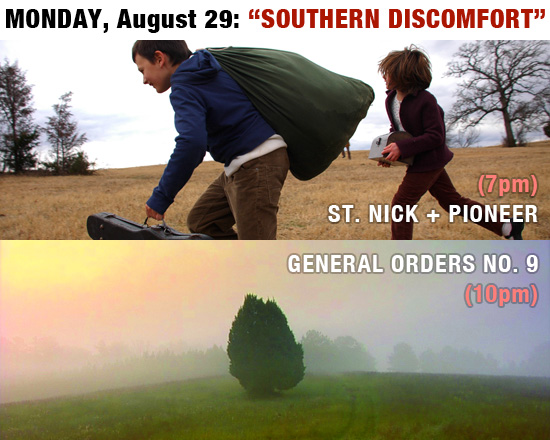 ST. NICK
(Monday 8/29, 7pm)
Dir. David Lowery. With Tucker Sears, Savannah Sears, Barlow Jacobs. 101mins total.
[Watch the trailer] Winner of a Grand Jury prize at the AFI Dallas International Film Festival and a cult hit at SXSW, Sarasota and Maryland, Lowery's mysterious adventure is a haunting and lovely portrait of childhood set on the stark plains of Texas. The film screens with Lowery's PIONEER (Best Narrative Short winner at SXSW 2011), starring actor-musician-iconoclast Will Oldham as a father who tells his little boy the most epic bedtime story ever.
«This is a film that keeps going — in your head as you think about what was going on, in the car on the way home as you talk about what may have really been going on.»
– Tom Maurstad, THE DALLAS MORNING NEWS
GENERAL ORDERS NO. 9
(Monday 8/29, 10pm, STAY FOR FREE AFTER «ST. NICK»)
Dir. Robert Persons. Documentary. 72mins.

[Watch the trailer] A dazzling cinematic experience that breaks from the constraints of the documentary form to contemplate the signs of loss and change in the American South. The stunning culmination of over eleven years' work, Persons' feature debut marries experimental filmmaking with an accessible, naturalist sensibility that «makes Malick look like a shot of straight Hollywood» (Michael Tully, HAMMER TO NAIL).
«Coming seemingly out of nowhere… rewards repeated viewings… A true original.»
– Robert Koehler, VARIETY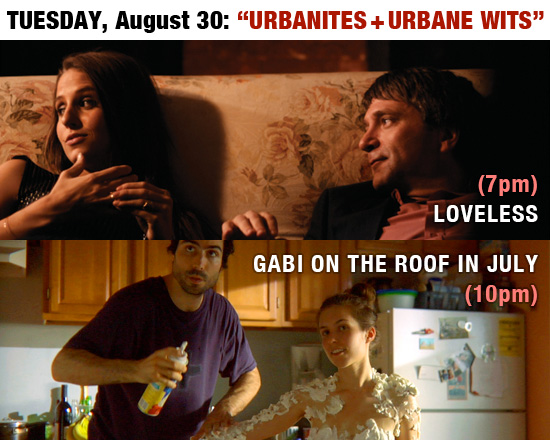 LOVELESS
(Tuesday 8/30, 7pm, FILMMAKERS IN PERSON)
Dir. Ramin Serry. With Andrew Von Urtz, Cindy Chastain, Genevieve Hudson-Price, Scott Cohen. 92mins.

[Watch the trailer] Our most popular film to date is the long-awaited second feature from Serry (whose debut MARYAM was given «two thumbs up» by Ebert & Roeper), a wryly funny comedy about a commitment-phobic New York City bachelor in crisis. Carrying the film with a rare combination of wit, intelligence and emotional complexity, newcomer Von Urtz stars as a would-be filmmaker with the slippery soul of a con artist.
«Dryly hilarious! At times, LOVELESS recalls Martin Scorsese's AFTER HOURS in its blend of black comedy and inchoate yearning. Watch for Serry; he is a genuine talent, with a sidewinding sense of humor and an affection for his characters. Even the jerks.»
– Michael Phillips, THE CHICAGO TRIBUNE
GABI ON THE ROOF IN JULY
(Tuesday 8/30, 10pm, FILMMAKERS IN PERSON, STAY FOR FREE AFTER «LOVELESS»)
Dir. Lawrence Michael Levine. With Sophia Takal, Levine, Louis Cancelmi, Kate Lyn Sheil, Lena Dunham. 99mins.

[Watch the trailer] A caustically funny yet sincere portrait of young New York and the misguided hopefuls who can't afford to live there but do anyway. Levine's assured, character-driven comedy about ex-girlfriends, sibling rivalry and whipped cream is «sharply observed. Talented performers have developed credible characters and realistic scenes of life among the young and confused in bohemian Brooklyn» (Mike Hale, THE NEW YORK TIMES).
«Levine deploys a poised eye and witty dialogue that sticks like a needle left sitting on a cushion… Wisely observant of human nature as it bounces between its leads, GABI evokes Woody Allen with a more generous heart (and a lot more casual nudity).»
– Steve Dollar, THE WALL STREET JOURNAL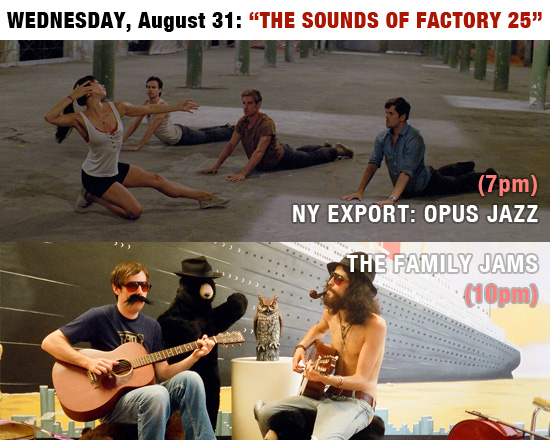 NY EXPORT: OPUS JAZZ
(Wednesday 8/31, 7pm, FILMMAKER IN PERSON)
Dir. Henry Joost and Jody Lee Lipes. Documentary. 74mins.
[Watch the trailer] An ambitious, sexy and jaw-droppingly gorgeous adaptation of Jerome Robbins' beloved «ballet in sneakers,» Joost and Lipes' SXSW Audience Award winner is «austere in purpose and yet lush and expansive in execution, suffused with summer heat and Terrence Malick cinematic light» (James Wolcott, VANITY FAIR). The screening will include JEROME ROBBINS' BALLETS: USA, a never-before-seen documentary commissioned by the State Department in 1958.
«Oozing seductive passion, sorrowful yearning, and playful joy, OPUS JAZZ is a brief but striking film that demonstrates the capacity of art (be it dance, music, or cinema) to speak volumes without saying a word.»
– Nick Schager, THE VILLAGE VOICE
THE FAMILY JAMS
(Wednesday 8/31, 10pm, FILMMAKER IN PERSON, STAY FOR FREE AFTER «OPUS JAZZ»)
Dir. Kevin Barker. Documentary. 81mins.

[Watch the trailer] An evocative rock-n-roll portrait of youthful possibility, THE FAMILY JAMS catches three musical acts (Devendra Banhart, Joanna Newsom, and Vetiver's Andy Cabic), at the fleeting moment when they transcended the world they built for themselves and everyone else took notice. Featuring appearances and performances by Antony and the Johnsons, Espers, Meg Baird, The Pleased and Linda Perhacs.
«[CRITICS' PICK!] THE FAMILY JAMS may not ever attain the stature of, say, a concert film like DA Pennebaker's DONT LOOK BACK. But it should, as a record of musicians in youthful flower, sharing a loose, heartfelt camaraderie and lack of pretension.»
– Andy Webster, THE NEW YORK TIMES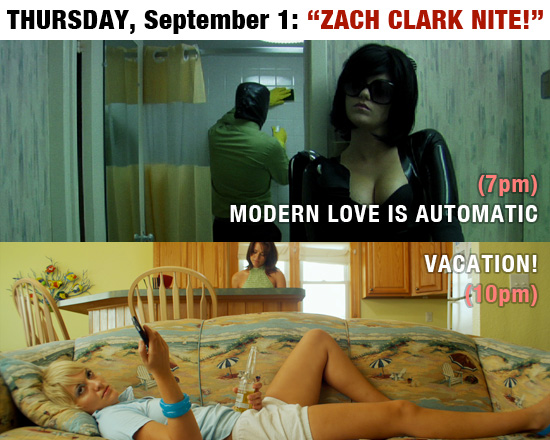 MODERN LOVE IS AUTOMATIC
(Thursday 9/1, 7pm, FILMMAKERS IN PERSON)
Dir. Zach Clark. With Melodie Sisk, Maggie Ross, Carlos Bustamante. 93mins.
[Watch the trailer] Mischievously deadpan and deliciously perverse, Clark's no-wave comedy follows the secret exploits of a bored nurse who becomes drawn into a seedy world of lonely men, cheap motel rooms, whips and chains. «It's all kind of addictive,» says THE NEW YORK TIMES' Neil Genzlinger. «Mr. Clark lands you, and his characters, at a place you weren't expecting.»
«The schizo theatrics, professionally assured performances, and a too-rare funniness here make for absorbing and refreshing viewing.»
– Justin Stewart, THE L MAGAZINE
VACATION!
(Thursday 9/1, 10pm, FILMMAKERS IN PERSON, STAY FOR FREE AFTER «MODERN LOVE…»)
Dir. Zach Clark. With Trieste Kelly Dunn, Melodie Sisk, Maggie Ross, Lydia Hyslop. 95mins.

[Watch the trailer] Clark's follow-up to MODERN LOVE IS AUTOMATIC is an existential beach party movie about life, death, sex, drugs and other shit that totally fucks you up. When four college friends reunite for a girls' week at the beach, it's all bikinis, piña coladas and dance parties at first. But the fun soon fades away in this «edgy cocktail laced with longing and nihilism… The vision is utterly contemporary» (Mike Goodridge, SCREEN INTERNATIONAL).
«Sex and death and music haven't got stuck in the same blender quite like this since Kenneth Anger last put his camera down.»
– Tim Hayes, CRITICS NOTEBOOK